There's no shortage of great reasons to include party food stations at your next get-together. Party stations are fun, flexible, and practical. Although they may look complicated and complex when they're on display, party food stations are very simple – and minimal assembly is required.
Party Food Stations Have Many Benefits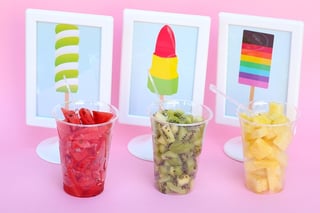 Saving time and money is an immediate benefit of having self-serve food stations at your next party. They save time because you're really just gathering and displaying individual ingredients instead of plating and preparing. They save money because the stations cause you to waste less food, since the ingredients can be saved and repurposed more easily.
Additionally, self-assembling food stations turn the once boring task of standing in line to plate up with food into an interactive, entertaining party component. It's much easier to accommodate picky eaters and guests with dietary restrictions. They can create a perfect dish just for themselves.
Party Food Station Ideas
Perhaps one of the greatest benefits of a self-serve food station is the ability to simplify your menu and allow it to tie in with your theme – if you have one. Below, I've listed a few popular food station ideas you can consider the next time you're party planning.
1. Bagel Bar
Bagels provide for an endless amount of creativity with pretty minimal upfront effort. Make sure to include both sweet and savory bagels, smears and spreads, and toppings.
2. Hamburger and Hotdog Station
These American classics are perfect for nearly any summertime get-together. Many of their topping options overlap, and it's easy to scale up if your guests are hungrier than you anticipated.
3. Burrito Bowl Bar
A great option for those looking to keep their party planning south of the border. When it comes to planning to serve Mexican, you'll typically face non-stop customization requests, but if your setup is self-serve, everyone can create their ideal burrito bowl. DIY burrito bowls also make it easy to accommodate people with dietary restrictions without leaving them hungry.
4. Baked Potato Spread
Baked potatoes are the perfect vessel for all sorts of toppings. Anything from classic sour cream and chives to chili to sundried tomatoes and lentils taste delicious on a baked potato. If you're looking to literally have a little something for everyone, a baked potato spread is the way to go.
5. Waffle Bar
Of course we need to cover a few sweet treats as well. Not only do waffle bars work for breakfast or brunch, they also function as a perfect desert. With whipped cream, chocolate syrup, and strawberries, or by adding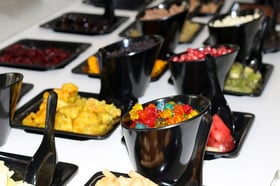 maple syrup and bacon, you can easily delight your guests.
6. Ice Cream Sundae Station
Last, but definitely not least, is the ice cream sundae station. Guests of all ages will be tickled at the idea of adding their favorite toppings to their sundae. Beyond the typical topping ideas, take a stroll down your grocery store's cereal aisle. I bet you'll find even more great toppings to include.
Choosing Your Perfect Party Food Station
Self-serve party stations can simplify your party planning and help guarantee your party is a hit. After all, one of the most popular ways people remember a party is by how the food was. It's the one thing every guest experiences, and when it's done well, your menu will serve as the conversation piece.