Halloween is a favorite holiday of many – not only is it a day that brings out the child in everyone by finding the perfect costume, dressing up, and getting a stomachache from too much candy, but it is also the perfect theme for a party. Although we may not have ideas to give you for your costume, we do have some delicious, and creative, ideas for your spooktacular Halloween event (aside from candy).

Fresh Fruits and Veggies – With a Halloween Twist
We know, Halloween is the day known for candy, but at any party or event, we believe it's best to have an adequate balance of foods that range from sweet to savory with a variety of healthy, nutritious options thrown in there. For us, the best thing about serving fruits and veggies on Halloween is having the chance to think outside the box and get creative with the presentation. There are a number of ways to transform simple pieces of fruit or vegetable platters into a crowd-pleasing, artful, edible display. Here are some ideas: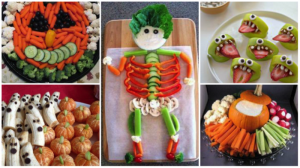 Little Smokies – Mummified
Everyone loves little smokies, right? Whether you prefer them sweet (think honey and brown sugar), savory (think BBQ sauce or bacon wrapped), or somewhere in-between, they're easy to make, easy to eat, and easy to enjoy. So, how can you make them fit the Halloween holiday? Make them into little "mummies"!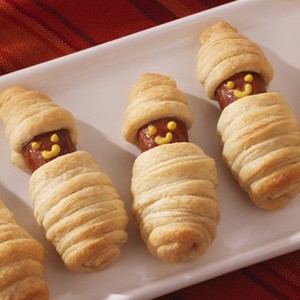 INGREDIENTS:
32 Hillshire Farm Lit'l Smokies
1 can refrigerated crescent rolls
Mustard and/or ketchup
Preheat oven to 375 degrees F.
Unroll dough and separate at perforations, creating 4 rectangles. Press perforations to seal.
With a knife or pizza cutter, cut each rectangle lengthwise into 8 strips, making a total of 32 strips. Wrap one strip of dough around each sausage, stretching dough slightly to look like bandages. Leave tip of sausage exposed to create face. Place on ungreased cookie sheet.
Bake 10 to 13 minutes or until golden brown. Draw features with mustard on tip of sausage to create face. Serve with mustard or ketchup, if desired.
(Recipe from delish)
Meat(eye)balls
At events and parties throughout the year, meatballs are a fan favorite. They take a bit longer to prepare, but your taste buds thank you later for all the hard work. For Halloween, there are a number of ways to make meatballs for you and your guests. But a favorite of ours is the "Oozing Eyeballs". If you want to go on the more subtle side, without the "oozing", simply omit the cheese, and you still have yourself a delicious option.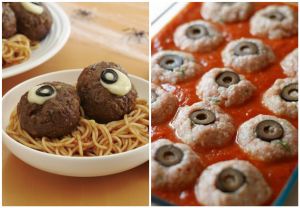 We hope these Halloween party foods will get your creative juices flowing for your Halloween event. And if you want to let a caterer take care of the hard work, we're ready to vamp up your ideas and help you throw a Halloween party you and your guests will always remember!