Easter Brunch is a tradition many families partake in each year. Whether it's heading to your favorite restaurant or cooking up a brunch at your house, gathering with loved ones on Easter and sharing delicious food is a ritual for many.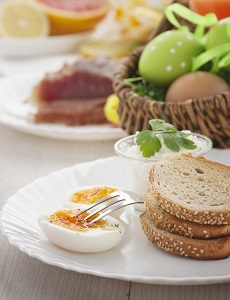 With that being said, we ask: why do either? Why wait hours to get a table at a crowded restaurant or spend all morning cooking only to have to spend the majority of the afternoon cleaning up the kitchen? For us, the cure all for this is catering! It the most convenient option especially if you're hosting a large group of people over the Easter holiday. There's nothing better than waking up on Easter knowing you can relax and enjoy the time with your loved ones without the worry of crafting up a yummy brunch for everyone to enjoy. Catering takes care of it all.
Easter Brunch Catering Options
Many catering companies, including ourselves, offer a variety of breakfast and lunch options for any type of event. If you have a specific request that you don't see on a catering menu, just ask if they would be able to serve your favorite dish. Most caterers are able to accommodate to most requests.
At Nelson Bros Cutting Edge Catering, we have three popular breakfast menu options that can make any brunch event one your taste buds will remember...
Omelet Bar: Who doesn't love a good omelet? Especially one that can satisfy your heart's desire in toppings. Whether you keep it simple or use your creativity to build an omelet masterpiece, we can do it all.
Early Riser: Our Early Riser option is perfect for the traditional breakfast goer. Want eggs, sausage, bacon, and potatoes? This option covers all the bases!
Nelson Bros Famous Fritter French Toast & Wild Rice Sausage: Nelson Bros Restaurant is famous for its Fritter French Toast, and with this option, the famous menu item shines.
Each brunch option listed above features a number of side items that will accompany the main dish perfectly and make the entire meal complete.
Not looking for breakfast items for Easter? We offer other items as well! Lunch, hors d'oeuvres, dinner…we have it all! To view our full menu, be sure to visit our website.