The 4th of July is right around the corner, and this holiday is notorious as being a day to gather with friends and family, enjoy the beautiful outdoors, eat some delicious food, and watch the spectacular fireworks. If you're planning a get together, the first step in the planning process is figuring out how many people will be attending. The next step? Planning the food of course!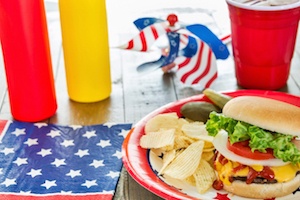 They say that food brings people together, and we couldn't agree more. On special events and holidays, there's nothing like gathering over good food and spending quality time with those near and dear to you. Your time is precious, and this is exactly why leaving the food planning to a catering company can allow you to focus your time and energy on who matters most – your guests.
So, what are some fun (and delicious) menu ideas for a catered 4th of July event? Let's dig in…
From the Grill:
1.) Chicken or Beef Brochettes
Brochettes are a fun way to grill chicken or beef and add your own flare. Brochettes allow you to add a variety of vegetables to accompany your meat. It's an easy and flavorful grilling option that makes for an all-in-one great meal.
2.) Chicken Wings
Chicken wings are an all-American favorite. With chicken wings, you can add any sauce, seasoning, or marinade your taste buds desire. With so many options, there is sure to be one that will make your mouth water and fit your party's theme.
3.) Build-Your-Own Chicken and Burger Bar
When it comes to planning food, you can't please everyone and pick their favorite foods. But with a build-your-own chicken or burger bar, your guests have the ability to create a sandwich or burger that they know they will enjoy. This fun, customizable menu option is always a hit!
From the Oven:
1.) Pork Prime Rib
Want to impress your guests? A pork prime rib sounds complicated and time consuming, but in reality, it's actually quite easy to make. As long as you have enough time (typically two to three hours), you can present your party goers with a tender, delicious piece of meat.
2.) Carved Pit Ham
Ham is a party favorite; it's simple to make and can feed a large number of people. Aside from many people liking ham, it can be used in a number of ways: sandwich, wrap, or on its own! You can also add a variety of glazes on ham to enhance a particular flavor. Some popular glazes include: brown sugar, maple, honey, pineapple, and ginger.
3.) Carved Beef Tenderloin
With beef tenderloin, slow-roasting is the way to go. This allows the beef to become extremely flavorful and tenderize. As long as you don't over season or over-cook, this cut of beef will ignite your guests' taste buds.
There are plenty of options to choose from when it comes to your 4th of July party, and catering companies can offer you menu items and save you from spending hours in the kitchen. Whether it's grilling out or getting intimate with a more formal meal, this day is the perfect day to eat, drink, and wear red, white, and blue!