A post wedding day brunch is not a requirement, but it is something that is becoming more popular to include. If you're against the idea or it's something you have yet to consider during your wedding planning adventure, we highly recommend including it. Why?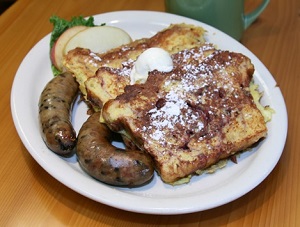 When you think about it, the planning and excitement leading up to your wedding day goes by extremely fast, and the big day
– it tends to go by in the blink of an eye. With that in mind, we say why not host a post wedding day gathering to have a moment to take everything in. It's the perfect time to relax and enjoy wedded bliss for the first time. You did it, you're married! Now soak in the moments, create more memories, and spend time with the one's you love. A post wedding brunch is the perfect time to do all of these things as well as give proper goodbyes to your guests.
If you're planning on having a post wedding day brunch or considering it, also consider hiring a caterer. Hiring a caterer takes the pressure off of you and is a less expensive option than heading to a restaurant with a large group of people. Caterers have experience with post wedding day brunches, and at Cutting Edge Catering, we love that others allow us to be a part of such a big event in their lives.
When it comes to a post wedding day brunch, Cutting Edge Catering offers a number of delicious brunch options that you will love waking up to the day after your wedding. Whether you want omelets, eggs, sausage, potatoes, fresh fruit…we have it all and more! Our brunch menu options include:
Omelet Bar
Choose from crab meat, shrimp, wild rice sausage, ham, peppers, tomatoes, onions, black olives, pesto, pepperoncini, salsa, and cheddar cheese
Early Riser
Fresh scrambled eggs with cheese, Nelson Bros wild rice sausage and bacon, and cheesy red skinned potatoes
Nelson Bros Famous Fritter French Toast and Wild Rise Sausage
Fritter French toast, wild rice sausage, and cheesy hash browns
At Cutting Edge Catering, we take our time to make sure each bite you take is perfect and take pride in the food we serve. We have a reputation for out of this world food and service and want to prove it to you. If you are looking for a post wedding day caterer, say "I do" to Cutting Edge Catering – it'll be the perfect finale to your big day.
To view more details about what's included in our brunch menu, visit our website.