Each year on March 17th, the Irish and Irish at heart, come together to celebrate St. Patrick's Day. Whether it's wearing green, drinking green beer, or attending one of the many St. Patrick's Day parades, there are a number of ways to celebrate the luckiest day of the year.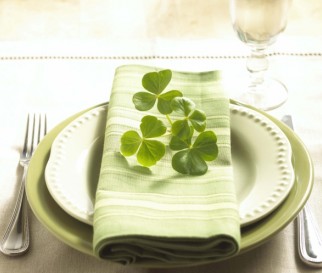 Any holiday provides good reason to get a group of people together and enjoy the special day – March 17th included. To us, this means planning an event or party. If you're looking to host a St. Patrick's Day party, large or small, let an experienced catering company use their expertise to fill up the stomachs of you and your guests with an authentic Irish feast. Besides providing you with delicious food, another reason to hire a caterer for an event is to take the pressure off of you, the host, so you get to enjoy the party as much as, if not more than, your guests.
For a St. Patrick's Day party, there are a number of menu options that follow the Irish theme. The typical Irish cuisine is fairly simple featuring a lot of meat and vegetables (particularly potatoes). The potato was introduced to Ireland's cuisine in the second half of the 16th Century and has been a staple ever since. Representative dishes of Ireland include Irish stew, corned beef hash, bacon and cabbage, and potato dishes (colcannon, boxty, potato soup – to name a few).
A simple menu option Cutting Edge Catering can provide for your event or party includes a carved choice prime rib of beef or baked quarter chicken as the main with potato options and vegetable options as the sides. Our chefs can prepare a number of dishes flawlessly allowing you to sit back and relax while providing the high quality food your guests will talk about for weeks.
We love a good party here at Nelson Bros. Cutting Edge Catering and wish nothing more than to be a part of yours. Food brings people together, and we enjoy the privilege of catering events and parties. There's nothing better than allowing hosts and guests to fully enjoy their time without having to worry about cooking and serving the dishes that everyone can enjoy. If you want to learn more about the menu options we can serve at your St. Patrick's Day party, contact us.
We hope you all enjoy your St. Patrick's Day, and may the luck of the Irish be with you come March 17th!