Thanksgiving is a favorite holiday of many. The day is meant to give thanks, and to spend time with family and friends, watch the famous Macy's Thanksgiving Day Parade or sporting events, and eat the delicious food.
A lot of people make their Thanksgiving dinners themselves in the comfort of their homes, but others choose to cater their meal in. Whether you want to take the day off to relax and enjoy the day with friends and family without the stress of preparing food, or if you're a company hosting a Thanksgiving for your employees, catering is a great option! If you're not sure what to serve, we have great options that fit the occasion perfectly …
Build-Your-Own Sandwich Bar
A build-your-own sandwich bar is a great option for a Thanksgiving lunch, at home or at work. It's easy and comes with the perk of customization. People are able to eat what they want and pick their portion size. To make this option fit the Thanksgiving theme, offer turkey as the main sandwich meat and include fixings and condiments for people to choose from. Side items can include: homemade potatoes (we suggest roasted red potatoes, mashed potatoes, cheesy potatoes), wild rice, and an assortment of vegetables.
Carved Roast Turkey with Bread, Potato, & Vegetables
If you're looking for a more traditional Thanksgiving meal, this option is perfect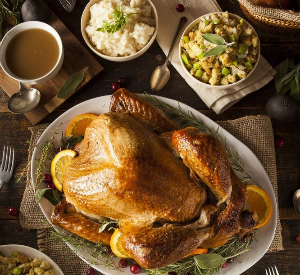 for you. The symbol of the Thanksgiving meal is the center of attention with this option: a carved roast turkey. At Nelson Bros. Cutting Edge Catering, along with the turkey, this option is served with homemade dressing, cranberries, bread, your choice of potatoes, and vegetable … it's filling and delicious!
Mmm … Dessert
When it comes to any special occasion, you can't forget dessert! Popular Thanksgiving treats are typically centered on pie whether it's pumpkin, apple, pecan, or sweet potato. Some other options we love are homemade apple cobbler, fudge brownies, and cheesecake. If you can't pick just one dessert, we suggest having a dessert bar. This way your guests can satisfy their sweet tooth from the options available … and you can try one, two, or all of them!
Thanksgiving is a day centered on acknowledging what you have and what you're thankful for. We want to say "thank you" to all of our customers, and we wish you a wonderful holiday. As you plan ahead, keep in mind that if you need help with your Thanksgiving meal, don't hesitate to contact us!