When it comes to wedding catering in St. Cloud, Cutting Edge Catering is a fantastic resource. We're able to accommodate groups of any size and for any occasion, and we know weddings. Even though our specialty is food, you can look forward to more than just a plateful.
Beyond the quality fare, you can expect flawless presentation and attentive, doting staff to make your wedding meal something your guests will remember for all the right reasons.
Because I spend so much time around weddings and wedding food, I follow any shifts and changes in trends pretty closely. Believe me when I tell you, at the end of the day guests really do remember the food. They'll recall the types of dishes, the presentation, the taste, the temperature, the portions, and the size. Yes, the size. Whether you serve foods in traditional or non-traditional manners is another way to set your occasion apart.


4 Miniature Wedding Foods with Big Impact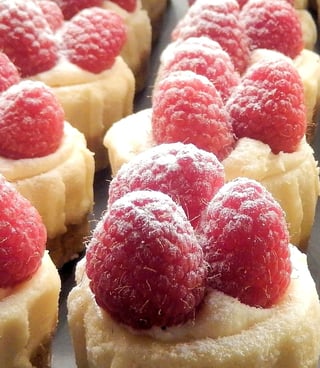 When you're thinking wedding hors d'oeuvres, don't limit yourself to shrimp cocktail and Caprese skewers. Yes, those delicious, crowd-pleasing options are just the tip of the iceberg. Consider the following miniaturized eats during menu planning.
Sliders
Sliders come with near-unlimited customization options, both with the bread and the filling. Pulled pork on wheat or pretzel bun sliders are always popular options. An American classic would be a miniature bacon cheeseburger.
Hot dogs
Another American staple, the miniature hotdog leaves the crockpot and barbecue sauce behind for a wedding appropriate update. Adding a bite-sized bun and an artful swirl of ketchup and mustard takes the mini hotdog to the next level.
Grilled cheese
This tiny bite is filled with childhood nostalgia and comfort. Serve it along with a shooter of tomato soup and your guests will gush about it for the foreseeable future.
Pies
When you're thinking miniature, don't leave out the sweets! After your other goodies, many guests don't have room for a slice of cake or an entire standard-sized cupcake. Instead, provide your guests with a bite of sweetness without weighing them down. Think classic desserts pared down into single bite, like Tiramisu shooters, cheesecake bites, or even baby-sized chocolate chip cookies served with a shot of milk.

Factors to Consider Before Serving Miniature Dishes at Your Wedding
If you're thinking about making miniature eats a part of your wedding, be sure to do it thoughtfully. Miniature foods make a big impact, meaning they can elevate or detract from your theme. Consider seasonality first and foremost. Soup in a shooter glass is adorable year-round, but your guests might not be in the mood for it in the middle of summer.
At Cutting Edge Catering, we cater hundreds of weddings in the St. Cloud area each and every year. Our dedication to customer satisfaction is second to none. We know the area, we know the people, we know the venues, and we're ready to do what it takes to bring memorable food to your wedding.
Looking for a St. Cloud caterer? Click below to speak with a catering specialist.