Custom Catering For Your Event
Meet Chef Dan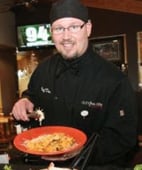 Located in the heart of Central Minnesota, I am proud to introduce Cutting Edge Catering by Nelson Brothers featuring me, Chef Dan.
I can create an elegant and chic meal for the classiest of weddings - or a simple and delicious buffet for a business luncheon or picnic.
Whatever your event, my staff and I will personally endeavor to provide the perfect spread. We provide catering to St. Cloud and the surrounding communities.
Simply fill out the form and myself or someone from my staff will contact you to see how we can assist you with your event.