Many couples are getting too caught up in the old-fashioned traditions when they should be setting trends of their own. Check out these 9 catering ideas for your upcoming wedding.
1. Popsicle cocktails
The perfect way to cool off during a summer wedding or event. Popsicle cocktails are bound to be a hit. An endless variety of recipes can help you create a Popsicle version of your favorite cocktail.
2. Mini Appetizers
Mini hors d'oeuvres are becoming very popular. Miniature versions of regular-sized foods such as burgers, tacos, hotdogs, desserts, and even cocktails, can make a big impact with your guests. Small portions allow guests to sample a wide variety of dishes without overindulging.
3 His & Hers Dishes
Personal touches from the bride and groom can make wedding festivities truly special. When it comes to food, featuring hand-picked dishes from the bride and groom can be a fun way to personalize your special day.
4. Signature Drinks
Featuring specialty cocktails is an excellent idea when extending a wedding theme, or simply leaving a personal touch. Have your signature drink match your wedding's colors, or carry a specific flavor throughout your entire menu.
5. Ice Cream Cart
Hosting a rustic or vintage style wedding? Hire an old fashioned ice cream cart to serve treats during a hot summertime reception. Guests will appreciate this uniquely sweet idea!
6. Everything on a Stick
Deliciously Minnesotan, the everything-on-a-stick theme is exactly what it sounds like. Perfect for an event featuring hors d'oeuvres, the unique quality of this theme is displayed when non-traditional foods are placed on a stick – try something imaginative like spaghetti and meatballs!
7. Hot Chocolate Bar
Perfect for winter or fall events, a hot chocolate bar can be popular with children and adults alike. Don't forget to provide your guests with plenty of mix-ins and toppings!
8. Craft Beer Bar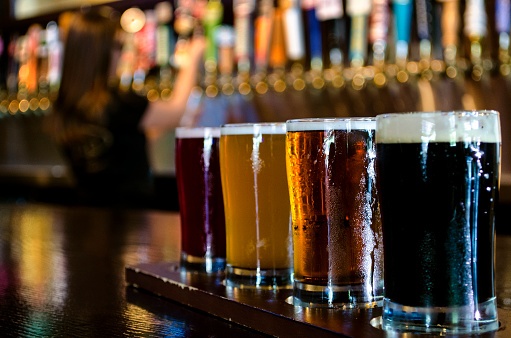 Sick of tasteless, domestic beers that are typically served at weddings and other events? Provide your guests with hand-picked craft favorites of the bride and groom. Bottles or growlers are a great option when ice tubs are available, and some microbreweries even offer kegs!
9. Infused Tea/Lemonade
With a huge variety of infused liquors currently circulating and trending, it was just a matter of time before non-alcoholic drinks started getting in on the action. Try infusing tea with fresh slices of peach or mango, lemonade with strawberries and raspberries, or even seltzer water with mint or lavender. This refreshing idea will keep guests hydrated, and taste buds happy.
Set your wedding apart from everyone else's and try one of these catering ideas at your wedding!