Finally, spring has sprung! With the long, cold Minnesota winter weather behind us, this time of the year means everyone is itching to get outside and enjoy the warm temperatures. What's the best way to do this? By throwing an outdoor gathering! Whether it's a garden party, dinner party, backyard barbeque, afternoon or evening picnic, it's the time of year to get outside and enjoy the weather with good company and tasty food.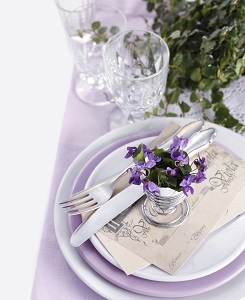 When it comes to what foods to serve at your gathering, our advice is to think seasonally. During the winter, people tend to welcome rich comfort foods, but spring brings different cravings.
Appetizers and Sides
Items to consider for a spring event tend to be fresh, light, and refreshing. For appetizers and sides, think fresh fruit, vegetables, and salads. Some fruits and vegetables to consider that are in season during spring include berries, kiwi, pineapple, grapefruit, apricots, tomatoes, asparagus, broccoli, carrots, new potatoes, sugar snap peas, and zucchini. And salads? Whether you want pasta salad, fruit salad, or a veggie salad, the possibilities are endless. Salads are great because you can get creative with the flavors and textures you choose. You can add almost anything to a salad and it will taste wonderful.
Entree
Spring also means people are able to fire up their grills and grill up some fantastic flavorful foods. Not only is the smell of a grill a welcomed scent in the spring, but the foods that come off the grill satisfy everyone's taste buds. Grilling up some chicken, burgers, or steak are all perfect options to celebrate the spring season.
Dessert
When it comes to any event, you can't forget about dessert. For us, dessert is the best way to top off a meal. This is a perfect opportunity to take advantage of seasonal fruits again with a fruity dessert. Some ideas include fruit tarts, strudels, bars, or broiled fruit over ice cream. If fruit isn't your forte, other sweets great for gatherings include cookies, cupcakes, and mini cheesecakes or mini brownies. When having a large event, it's best to have bite sized desserts available so people can grab one whenever they would like and continue their interactions with others.

No event coming up? These catering options transition perfectly into summer. Also, spring brings with it many events like graduation, weddings, anniversaries, and birthdays – to name a few. These are perfect instances when a caterer comes in handy.

Never worked with a caterer? Let us know! If you need help with your next event, give us a call or book you event online.