If I asked you to describe your most recent boxed lunch experience, what words would you choose? Do words like fresh, energizing, delicious, and convenient come to mind? Or do words like standard, free, and edible better describe your experience?
Food matters. We respond both socially and physically to the food we eat, and the foods you choose to serve your employees can affect their workflow, mood, and performance. Think about what's in the boxed lunches you're serving to your staff and consider whether it's helping or hurting whatever goals you're working to achieve in your culture.
Food Affects Work Performance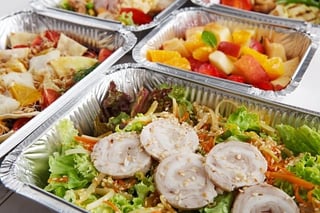 Picture the typical catered boxed lunch at a corporate event: a sandwich with chips and a pickle. It's easily transportable and can be made ahead of time and still hold up until serving. While predictable, a boxed lunch serves its basic purpose – making the recipient less hungry. But a boxed lunch can accomplish more.
Food is more than fuel. A recent Harvard study focused on the connection between the foods we eat and the cognitive performance that follows. Our bodies digest and collect nutrients in different ways and at different speeds depending on the foods we eat. While choosing a quick and easy lunch can shave 10 minutes off your lunchtime, it can also derail your performance for the entire afternoon. When you consider corporate catering ideas, think about the physical and cognitive effect it can have on your employees.
Corporate Catering Ideas Beyond the Traditional Boxed Lunch
By fillling boxed lunches with healthier options, you can provide your staff with a nutritious, delicious meal that helps them feel better all while avoiding the dreaded 3pm slump. For corporate catering ideas, I've included a few menu options below for increasing the nutritional quality of boxed lunches.
Wraps
This sandwich alternative includes many of the same nutritional components: protein, starch, vegetables. But, a wrap can include more diverse ingredients, accommodate more vegetables, and be eaten utensil-free.
Salads
Instead of sourcing energy-inducing carbohydrates from processed breads or wraps, salads provide a balanced carbohydrate load from the vegetables, fruits, and legumes. These carbohydrates digest slower, keep brains functioning more steadily, and help avoid the afternoon slump.
Soups
Soup is a fantastic vessel for healthy ingredients. Nearly any soup can include healthy vegetables and proteins, and your staff will likely enjoy having a nice, hot bowl of comforting soup – especially during fall and winter.
Sides and Extras
For accompaniments, think about vegetables with hummus for dipping, pita bread or whole wheat buns, applesauce, and fresh fruit as ideal options.
Corporate Event Catering, St. Cloud
By providing delicious and nutritious meals at your next catered corporate event, you can affect how productive the event actually is. Healthy lunch options can create a positive environment for employees to learn and collaborate. If you're planning for corporate event catering in St. Cloud and the surrounding areas, contact our catering specialist.